Chatswood Mall Market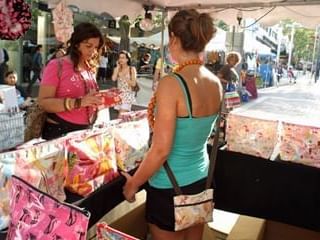 Taste the world at the Chatswood Mall Market, with food from Taiwan, Germany, Malaysia and Mexican – just to mention a few.
Every Thursday and Friday in The Mall (on the way to Chatswood station) you will find a food fare along with unique gift stalls ranging from leather bags to preserved flowers and floral teas.
And there's a fresh line up of great musicians every week to keep you entertained.
An example of some of the flavours you can experience:
Lamb, chicken, pork or beef souvlaki with Greek salad
Beef quesadilla with guacamole
Belgian waffles
Korean fish cakes
Japanese street foods
Taiwanese red bean or custard pancakes
Chicken Katsu Curry
Cane juice with lemon, lime or ginger
Paella
Turkish Gozleme
Chicken with lemongrass, cracked white pepper noodles
Try some Malaysian Street food delicacies:
Siew Pau – Malaysian style baked bun filled with pork, onion and peas
Pullut Inti – glutinous rice and palm sugar + fresh coconut topping
Kuik Dadar – fresh coconut with palm sugar wrapped in a pandan flavoured pancake
 
443 Victoria Avenue 2067 Chatswood Australia